Apprenticeship Opportunities: Deck Rating and Engine Room Rating Apprentices – NorthLink Ferries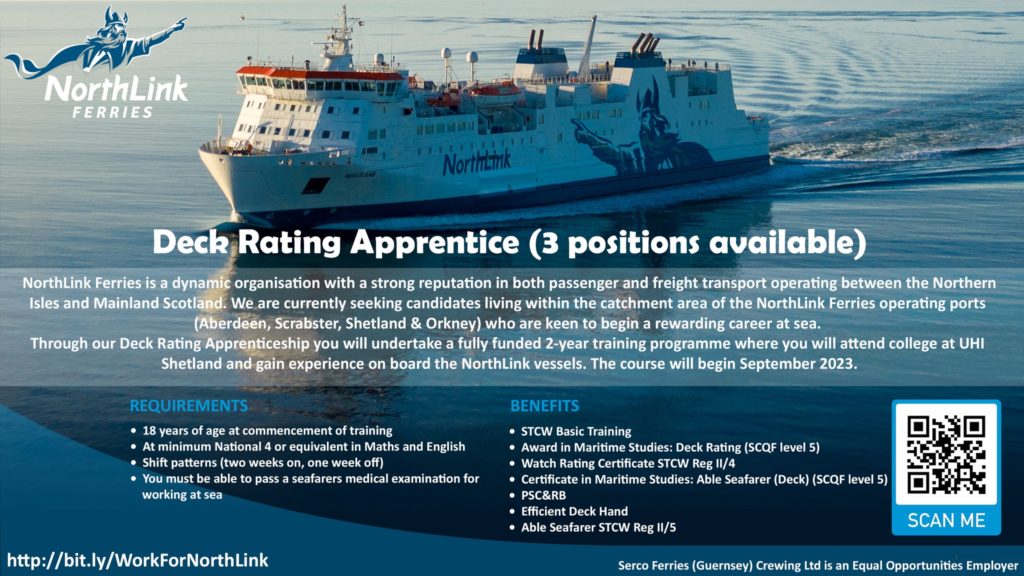 THESE POSITIONS ARE NOW CLOSED.
NorthLink Ferries has some fantastic opportunities available for Deck Rating and Engine Room Rating Apprentices. We are looking for enthusiastic, reliable, determined and hardworking candidates. The roles will require you to work shift patterns (two weeks on, one week off) and you must be able to pass a seafarers medical examination for working at sea.
Successful candidates must be at least 18 years of age at commencement of training. We would expect candidates to hold at least National 4 or equivalent in Maths and English. Candidates must also live within the catchment area of the NorthLink Ferries operating ports (Aberdeen, Scrabster, Shetland & Orkney).
Through our Apprenticeships you will undertake a fully funded training programme where you will attend college at UHI Shetland and gain experience on board the NorthLink vessels.
The courses will begin September 2023.
For more information about both roles and details of how to apply, please visit HERE.
Closing date for applications: 24th July 2023.