Apprenticeship Opportunity: Electrician – The Highland Council, Wick
THIS POSITION IS NOW CLOSED.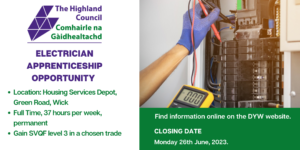 Post Title: Apprentice Electrician
Location: Housing Services Depot, Green Road, Wick
Hours: Full Time, 37 Hours Per Week
Duration: Permanent
Salary: £21,952 – £25,877 p.a.
Year 1 / Year 2 – Living Wage = £21,952
Year 3 – 85% of HC05 = £21,996
Year 4 – 90% of HC05 = £23,290
Full Trade = HC05 £25,877
Salary placing will normally be at the first point of the scale.
Work towards achievement of an SVQ level 3 in a chosen trade ( joiner, plumber, electrician, painter or builder)
The Highland Council is actively seeking to hire an apprentice electrician to join their team. This presents a remarkable opportunity for individuals aspiring for a rewarding career.
This apprenticeship opportunity with the Highland Council not only provides a pathway to acquiring a respected trade qualification but also opens doors to a promising career in the electrical field.
The Construction Apprenticeship will provide an exciting alternative to full-time education and an opportunity to gain valuable work experience, skills and qualifications in a particular trade. Apprentices will not only learn basic skills but will be given the opportunity to gain more responsibility and put new skills into practice.
Accountabilities:
Undertake work experience with fully qualified tradesperson carrying out day to day housing repairs and maintenance together with other repairs to Council properties
Attend vocational education at local colleges on a block release or day release basis
Work towards achievement of an SVQ level 3 in a chosen trade ( joiner, plumber, electrician, painter or builder)
Work under supervision at a large variety of locations and using specialist tools and equipment
Complete all necessary portfolios of work for achievement of training modules within agreed timetables
Ensure implementation of and adherence to health & safety policy and procedures
Person Specification:
ESSENTIAL:
The minimum acceptance level for safe and effective job performance
Experience:
Practical experience attained at school
Work Experience
Genuine interest in trade skills e.g DIY at home
Education:
Skills/Abilities:
Ability to develop further skills and acquire further knowledge and understanding
Willing and keen to undertake relevant SVQ qualifications
Ability to listen and follow instruction
Ability to organise own workload
Displays genuine interest in chosen trade
Displays positive attitude
Customer focused
Interpersonal:
Ability to work on own or as part of a team
Willing to learn and show commitment and enthusiasm
Respects others
To apply, please visit HERE.
Closing date for applications: 26th June 2023.
Contact Details: David Sutherland Tel: 07766 297954