Apprenticeship Opportunity – Engineer (Track) – Network Rail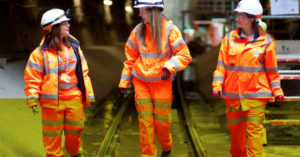 Engineer (Track) Apprenticeship
Network Rail
Full-time (35 Hours per week), 3 years
Qualifications: SCQF Level 6 Railway Engineering, the Institute of Leadership and Management Level 3. 
Job Overview
An Engineering Apprenticeship with Network Rail is the first step into an exciting career in the Rail industry. As part of our team, you'll help shape national projects, embrace the latest tech and learn the skills to succeed.
Our Engineering Apprentices get to team up with experienced engineers at one of our depots, so they can learn what goes into keeping thousands of miles of power lines and tracks up and running and fit for use.
Do well, and once you've completed your apprenticeship, you can set your sights on an unlimited number of career options, with plenty of opportunity to further training as you progress.
The scheme lasts for three years. You'll start year one with our training centre based in East Kilbride, before progressing to a placement with an engineering team at your local depot where you will complete year two and three.
You'll find yourself out in all weather, around the clock, seven days a week, so you'll need to be flexible about travelling and working shifts and be up for working in all conditions whilst having the health and safety of your colleagues will always be at the forefront of your mind.
What will I learn?
After completing the course, you'll not only have your SCQF Level 6 in Railway Engineering, you'll also hold the Institute of Leadership and Management Level 3. You could even have further support and sponsorship from us to attend university and the chance to achieve professional qualifications. Because, when you start your career with an engineering apprenticeship, anything is possible.
What qualifications or qualities are required?
You'll have a head start in this vacancy if you've completed a Foundation Apprenticeship in a related field. We'll need you to provide evidence of your qualification and show you gained the relevant skills from your placement.
You'll need at least National 5s in English, a Science and Maths at Grades A-C, and one other subject at Grades A-C.
You need be aged 18 or over on or before 28 August 2023 to apply for this scheme.
Apply now by visiting HERE.