Apprenticeship Opportunity- General Construction Operative, John Gunn & Sons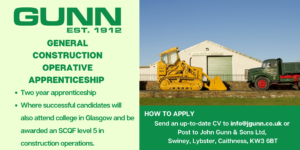 John Gunn & Sons is looking for a highly motivated individual to undertake a trade apprenticeship in groundworks and ultimately gain an apprenticeship in the trade. The prospective candidate needs to be enthusiastic, punctual, able to take instructions and reliable. They must be able to cope with the physical side of the role which involves manual labour and working outdoors in all weathers. They need to have both communication and organisation skills whilst being able to work as part of a team or on their own.
The apprenticeship programme is a total of 2 years full time employment, where successful candidates will also attend college in Glasgow and be awarded an SCQF level 5 in construction operations.
Course modules include:
Introduction to H&S, Risk Assessments.
Introduction to manual handling, acts & regulations, safety inspections.
Introduction to power tools, abrasive wheels, small plant maintenance.
Scale rules, graphical symbols and drawings, construction technology, communications, standards and tolerances.
Introduction to concrete, asphalt, shuttering, reinforcing, sub-base, kerbing, slab laying and material take offs.
Work area protection and safety/assessment.
Levelling and setting out, collimation to field, collimation to drainage.
Installing drainage, travellers profiles.
A general construction operative is one of the best jobs for someone looking to begin their career in construction. If you wish to apply, please send CV to info@jgunn.co.uk or post to John Gunn & Sons Ltd. Swiney, Lybster, Caithness, KW3 6BT.