Apprenticeship Opportunity: Quantity surveyor/commercial apprentices – Dounreay
Quantity Surveying/Commercial Apprenticeships
Full Time, Fixed Term
Location: Dounreay, Thurso
2 Year Training Programme
Start date: August 2023
Salary range: £14,238 
Closing date for applications: 12 April 2023 at 12 noon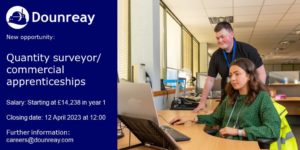 Dounreay is looking to recruit quantity surveyors/commercial apprentices.
Dounreay is working at the forefront of nuclear decommissioning, waste management and environmental restoration.
Be Part Of It:
This programme provides unique and challenging opportunities. The people we train today will have the opportunity to be involved in some of the most exciting technical projects in the world and to develop skills which will be increasingly needed both at Dounreay and in other areas of industry.
The apprenticeship is a comprehensive training programme lasting up to two years. During this period, you will undertake training and work experience at Dounreay within our Commercial and Project Teams, assisting with some of our new build projects on contracting and estimating works and project management support. You will also attend Inverness Highland College UHI on block release to gain additional skills and qualifications.
The programme requires you to complete SVQ3 Construction Contracting Operations: Estimating and HNC Built Environment
The training & qualifications you will gain are highly valued in modern industry; employment with DSRL on completion of the programme is dependent on Dounreay site requirements at the time and your performance.
You should:
Have achieved (or expect to achieve) a minimum of Mathematics, English at National 5
Be able to demonstrate an interest in the Built Environment
Good communication and team working skills
Live within daily travelling distance of Dounreay or willing to relocate
If you require assistance at any point during the recruitment process, please contact careers@dounreay.com at the appropriate time so that we can make any necessary reasonable adjustment.
Start date: August 2023 – starting salary £14,238 in Year 1
Closing date for applications: 12 April 2023 at 12 noon 
Apply now by clicking HERE.