Creative Careers Week 2023: Hear first-hand creative career experiences!
Creative Careers Week 2023 is a chance for the sector to come together and showcase the wide variety of opportunities there are within the sector and inspire employees of the future.
Hear from Shelagh Swanson, Sinéad Hargan and John Baikie as they share their personal journeys in the world of creative careers.
Shelagh Swanson – Artist & Creative Entrepreneur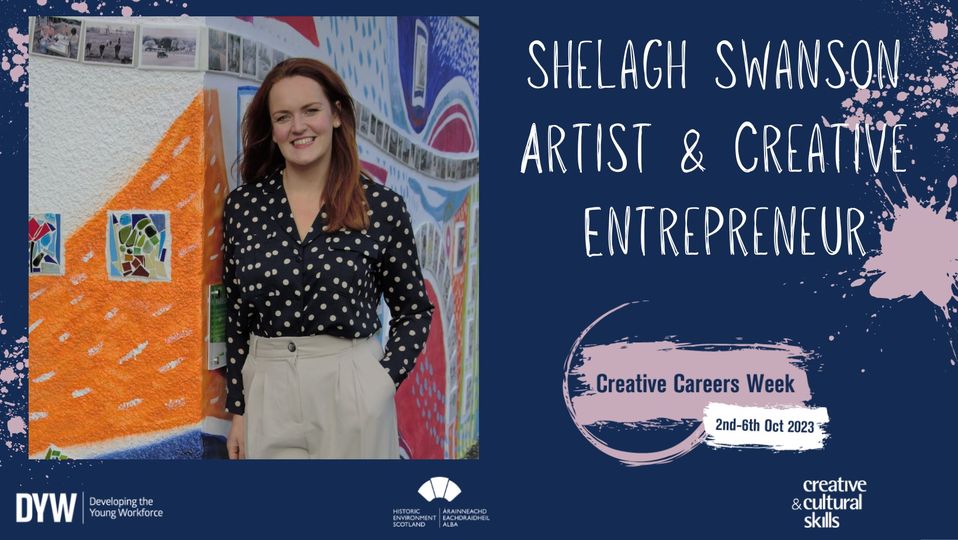 Meet local artist and creative entrepreneur Shelagh Swanson, Painter and Glassmaker who, with a wealth of experience as an artist, curator, gallery owner, lecturer and workshop leader, to name a few – is proving creative careers are rewarding and diverse!
Shelagh's career has taken her all over the world, but back home from her cosy studio in Bower, Shelagh told us about her first steps:
"When I was a wee girl I wanted to be *everything* when I grew up….from a chef to a lawyer, to working in a bank to an artist, I had many ambitions! Art was something I loved, but I'd been told it wasn't something I could make a career of…..I'm so glad that, at age 17, I decided to prove the naysayers wrong! Now, almost 20 years after graduating from Gray's School of Art, Aberdeen, with a degree in painting, I can look back at a truly rewarding career, which is not only fun, but challenging and full of variety. Im glad I followed my dreams and made it work. With passion, it's possible!"
Sinéad Hargan – Artist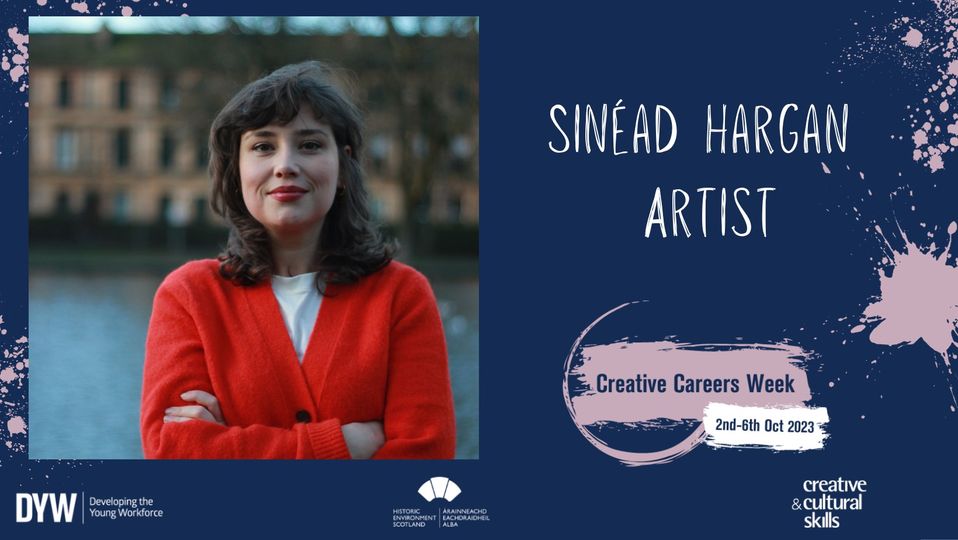 Meet Caithness-based Artist Sinéad Hargan, who has been chatting with us about the diverse aspects of her creative career as a practising Artist and the importance of embedding arts and culture in our local communities.
"I have a socially engaged practice, so the themes of the work are grounded in social issues, and I collaborate with other artists and communities to research, explore and create. I work across different mediums, including performance, sound, film and programming. My work takes many shapes and forms and is constantly changing and challenging, and this is one of the biggest draws for me; it stays exciting and relevant.
I worked in the arts sector before and after studying a BA (hons) in contemporary theatre at the Royal Conservatoire of Scotland. I understand the time during my studies was essential for exploration and space to fail and to re-work ideas with peers and tutors, many of whom I still rely on for peer support and feedback!
I think creativity encourages us to question the world around us in radical and evolving ways, and for me, this is a really important and valuable thing to have in all communities, spaces and places."
John Baikie – Photographer and Filmmaker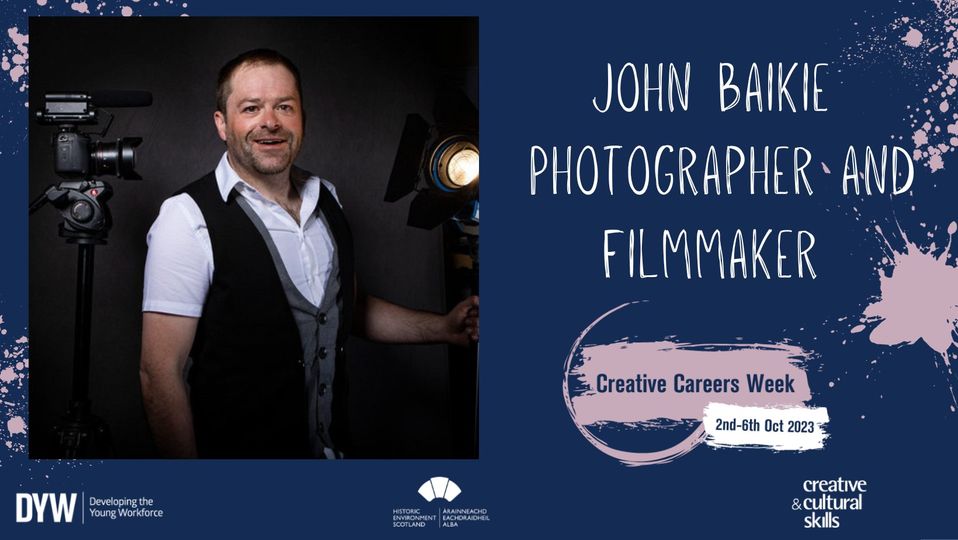 Meet award-winning Caithnesian Photographer and Filmmaker John Baikie, whose' creative career has taken him all over the world!
We chatted to John about his daring leap to follow his dream career:
"I took an unconventional path, starting out in an engineering career, before finally accepting what I had always known, that I was a creative at heart.
When you leave school, there are certain expectations and things that are considered to be the 'right path'; however, this is just not the case at all. I have spent the last twenty years travelling all over the UK and Worldwide, being paid to do photography, and now film. I have covered all sorts of amazing events and photographed some pretty amazing people.
This also allows you to make great connections all the time with some awesome people. I have had some of the most amazing experiences, and things which would never have seemed possible to a teenage version of me. It is absolutely possible to make a good career in the creative industries, and do the things you love.
My advice would be to believe in your goals and commit to making them happen through hard work and dedication. Absolutely anything is possible with the right attitude. In my opinion attitude and mindset are even more important than having any kind of talent."