Freelance Trainee Musicians – Fèis Rois, Tain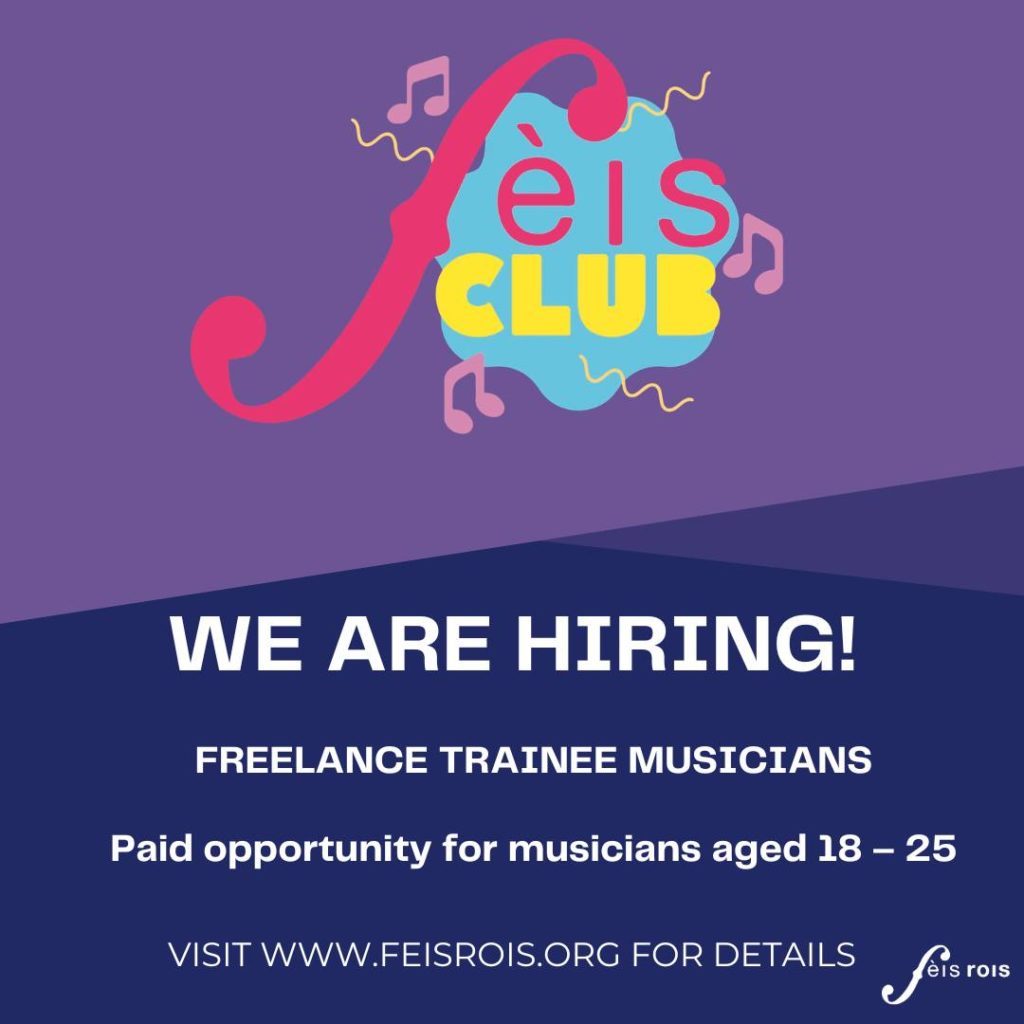 Project Duration: 22 weeks: September 2022 – March 2023
Fee: £1,100 (2 hours per week at trainee rate of £25 per hour)
Start Date: Monday 11th September.
At Fèis Rois, we are looking to hire trainee musicians in the four communities (Alness, Invergordon, Ullapool & Tain) where we are delivering Fèis Club. This is an opportunity to come and support the project and learn from the experienced teaching artists in each community.
Additional Benefits: Travel expenses are reimbursed and training, mentoring and professional development opportunities are provided. You will be paid an additional fee to attend mentoring sessions and any meetings relating to the project.
Primary Purpose of the Trainee Musician role
Fèis Rois is looking to recruit trainee musicians aged 18 – 25 with a background in performance, music education and/or sound engineering to support the delivery of the Fèis Club project. This 8-month placement will include the opportunity to shadow musicians who are experienced at working in participatory settings, as well as a number of training and continued professional development opportunities.
The Project Trainee will be supported by Fèis Rois staff and will be expected to:
Shadow and support artists during the delivery of the project;
Attend mentoring sessions with professional musicians;
Create an end of project report to evaluate the skills and experience gained during the project.
We expect the trainee musicians to join the project during the week commencing Monday 11th September. You can apply to be a trainee in more than one community. For example, you might be interested in taking up this opportunity in Tain on a Tuesday and in Invergordon on a Wednesday, or in Alness on a Tuesday and Ullapool on a Wednesday. With this in mind, Fèis Rois might end up appointing four separate trainee musicians or two trainee musicians covering two communities each.
How to Apply
Please apply in a format that feels comfortable to you. This could be in writing (maximum 2 x A4 sides) or by submitting an audio recording or a video (maximum 10 minutes). We do not require a CV but please tell us why this opportunity appeals to you and what skills and experience you could bring to the role. All applications must be submitted to Tj, Community Engagement Officer, at tj.bawden@feisrois.org by 5pm on Monday 28th August 2023.
Recruitment Schedule
Deadline: 5pm Monday 28th August 2023
Interviews: These will be held in Dingwall on Monday 4th September 2023
Start date: Week commencing Monday 11th September 2023
For informal enquiries regarding this position please contact Teya-Jean Bawden on 07576 545 252 or email tj.bawden@feisrois.org
You can read and download the full job description here.