Paid Placement Opportunity: Recycling Operative, ILM Highland – Alness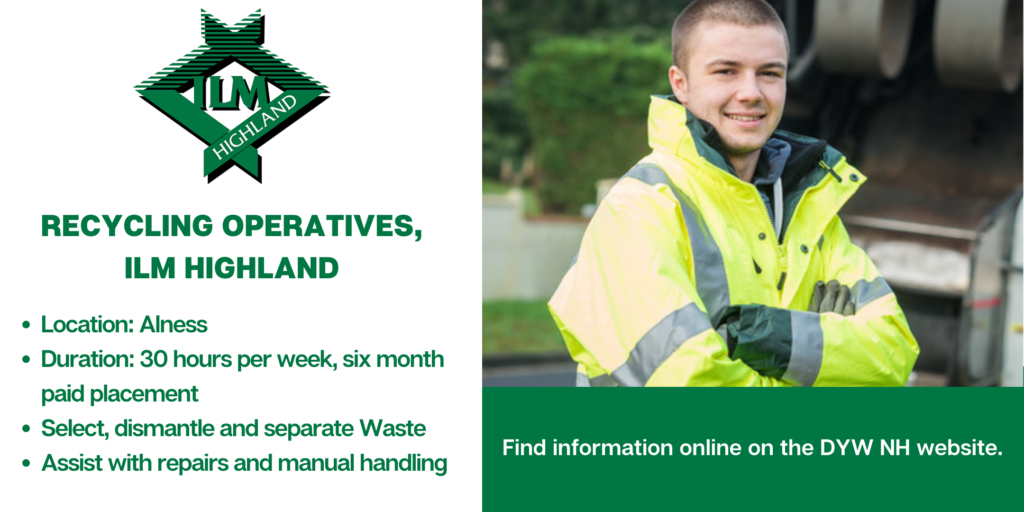 APPLICATIONS ARE NOW CLOSED. FOR ENQUIRIES, PLEASE CONTACT THE EMPLOYER DIRECTLY.
ILM Highland is looking to take on a 6-month paid placement to help us select, dismantle and separate Waste Electrical and Electronic Equipment (WEEE) and assist with repairs and manual handling.
To be eligible you need to live in the Highland Council area, and either be:
16 to 24 years with no or limited work history
25+years and have been unemployed / out of work for a minimum of 9 months.
Parents who are unemployed / out of work.
This paid placement includes: a 6-month contract of employment (30 hours per week) pay at age-appropriate national minimum wage.
For more information, please contact Kenny Horsfield: 01349 884774, email: kennyhorsfield@ilmhighland.co.uk