PRE REGISTRATION TRAINEE PHARMACY TECHNICIAN – CAITHNESS GENERAL HOSPITAL, WICK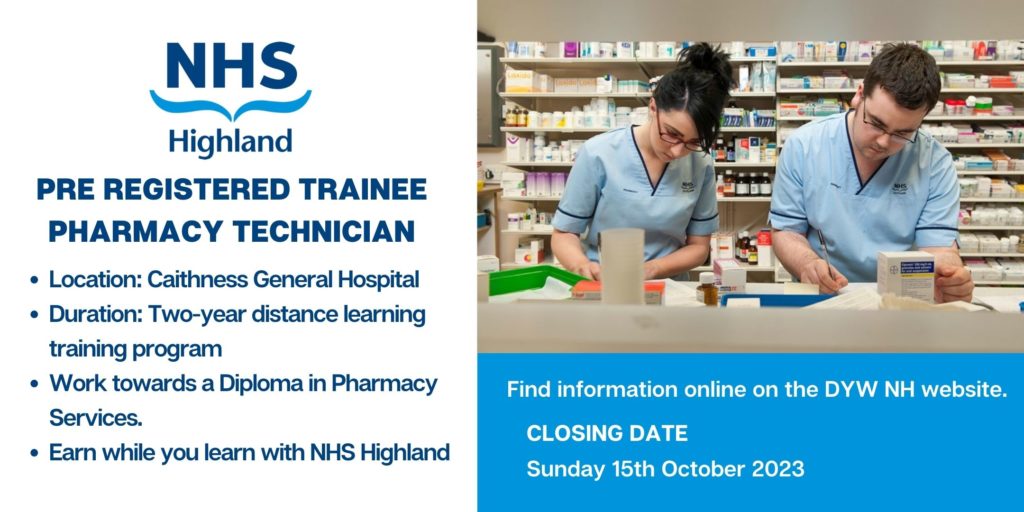 CAITHNESS GENERAL HOSPITAL, WICK
PHARMACY DEPARTMENT
PRE REGISTRATION TRAINEE PHARMACY TECHNICIAN
(BAND 4 ANNEX 21)
(Salary: £27,598 – £30,019) when fully qualified
A trainee post with annex 21 applied is paid a percentage of the fully qualified rate during the period of training as follows:-
Year 1: 70% top Band 4 (£21,313 increased to Scottish Living Wage)   Year 2: 75% of the pay band maximum 
Would you like the opportunity to earn while you learn, work towards a professional qualification and registration with the General Pharmaceutical Council?
We are looking to recruit a motivated and committed trainee pharmacy technician to undertake a 2 year distance learning training programme during which you will work towards the Diploma in Pharmacy Services. This includes completing the PDA in Pharmacy Services (SCQF 7) and SVQ in Pharmacy Services (SCQF 8) while developing your knowledge and skills under the supervision and support of our pharmacy team.
You will be based in the pharmacy department at Caithness General Hospital in Wick and the training programme is undertaken while working through the various aspects of the pharmacy service. One day a week during Scottish term time is dedicated towards the study component of the course where candidates can study from home completing their interactive training modules.
To apply for this post applicants must meet the following criteria:
National 5 qualifications at Grade A to C in Chemistry, Biology, Maths and English/ESOL or completion of the Access to Pharmacy Services (SCQF level 5), NC in Pharmacy Services or NC in Applied Sciences. Previous pharmacy experience and training to pharmacy services level 2 is desirable but not essential.
We are looking for a diligent, enthusiastic individual committed to improving patient care and working within the pharmacy team and at ward level. Commitment to the completion of the required study is essential and you will require excellent organisational skills to balance the on-the-job requirements and academic aspects of this post. This is a full time post of 37.5 hours per week working Monday to Friday and a public holiday commitment on a rota basis.
On successful completion of the training programme and registration with the General Pharmaceutical Council you will join the Pharmacy team as a Pharmacy Technician at Band 4 and have the opportunity to continue your career by completing the NHS Education Scotland Vocational Training Foundation Programme for Pharmacy Technicians.
Interviews will be held on 31/10/23
Date of commencement in post: 05/02/24
Informal enquiries please contact: Jennifer Cowie, Senior Pharmacy Technician via email: jennifer.cowie5@nhs.scot or Catriona Innes, Pharmacy Team Lead via email: catriona.innes@nhs.scot
Apply now at: Job Information – NHS Scotland | Jobs | Search here for your perfect career