Ready, set, sail! Adventure of a lifetime for 12 young North Highlanders off to join the Tall Ships Races 2023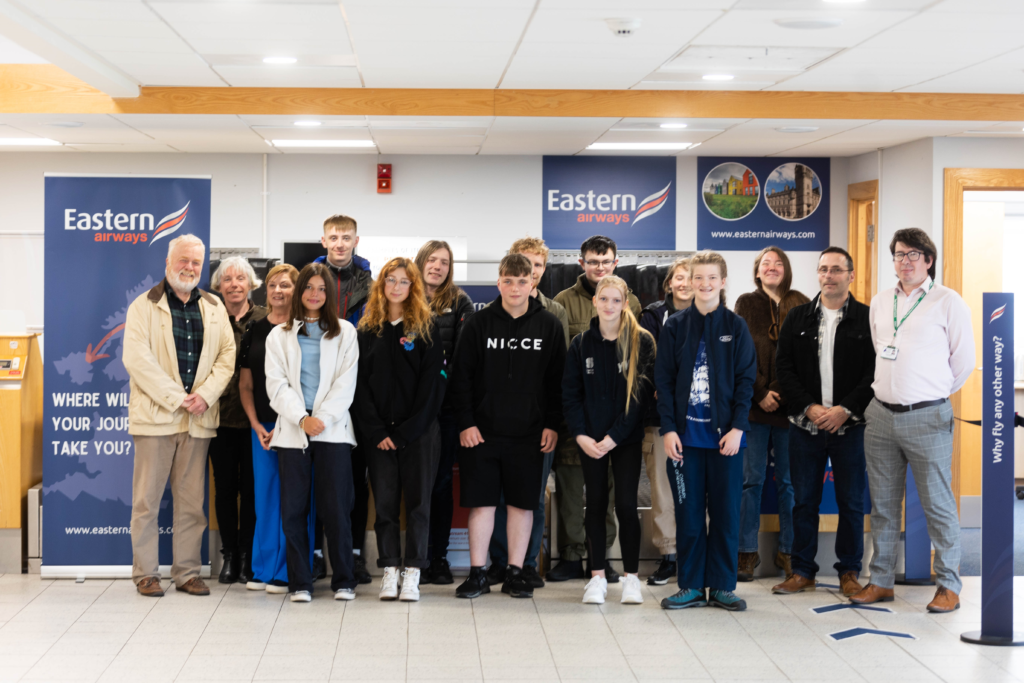 Excitement filled the air at Wick John O'Groats Airport this weekend as 12 young people from across Caithness and Sutherland headed off for the "adventure of a lifetime" to join the Tall Ships Races 2023 with Sail Training Shetland.

This is the first year the initiative has been granted to young people in Caithness and Sutherland, thanks to generous sponsorship made possible by Scrabster Harbour Trust, Pentland Floating Offshore Windfarm and Developing Young Workforce North Highland.

Departure flights from Wick to Aberdeen have been kindly sponsored by the Highland Council and Eastern Airways. The sponsorship provided by the supporting organisations has made this life-changing opportunity as inclusive and accessible as possible and recognises the importance of the provision of life-enhancing development opportunities for young people.

The intrepid young trainees will join crews aboard the Statsraad Lehmkuhl and Roald Amundsen Ships to take part in the "Cruise in Company" journey, departing from Fredrikstad, Norway and visiting guest harbours along the Norwegian and Scottish coast before arriving at Lerwick.

The Sail Training initiative is designed to inspire self-confidence and teamwork, enabling participants to confront many demanding challenges, both physical and emotional. The skills and attributes achieved on board are designed to enhance their employability skills through hands-on learning and real-life experience.

Their voyage, part of the legendary Tall Ships Races, is part of a spectacular event which will see an international fleet of Tall Ships, Small Ships and Yachts join this maritime festival exploring the North Sea. During their participation in a sail training adventure, trainees receive instruction in all aspects of sail training as embedded crew members and will have the opportunity to take part in an array of special events organised by guest harbours and host ports along the way.

This year, Sail Training Shetland has partnered up with harbours around Scotland including; Scrabster, Orkney, Aberdeen, Stornoway, Montrose and Ullapool, to place 100 trainees from across the country on eight different vessels taking part in the races.

An unforgettable experience awaits these bold young seafarers!
Nicola Innes DYW North Highland Lead commented:
"Excitement is building as our young trainees, prepare to depart on their journey to participate in the Tall Ships Race 2023. This unique experience will uncover hidden strengths and talents, build new friendships, and increase self-confidence whilst working as a team throughout this amazing adventure.
We wish the trainees a happy sailing and look forward to hearing all of their amazing stories when they return."
Trudy Morris, CEO Caithness Chamber of Commerce commented:
"This is a fantastic opportunity for the young people taking part. It is sure to build their confidence and provide invaluable transferable skills which will aid them tremendously in their next steps into the world of work.
The provision of high-quality growth opportunities and exposure to real-world experiences are vital in the long term for the development of our young people and their future prospects. This experience will open their eyes to the limitless potential of opportunity available to them and prove that the Highlands are connected to an international network."
Tom Pottinger, Chair, of Scrabster Harbour Trust commented:
"The Harbour Trust is delighted to be involved with the Sail Training scheme. Given this is the first time that the scheme has been offered to young people from Caithness & Sutherland, to have twelve individuals participating is fantastic. We wish to thank the organisers in Shetland & Caithness for their hard work in making this opportunity possible. We will be watching the trainees progress with interest and look forward to their feedback when they return".
On flight sponsorship, a spokesperson from the Highland Council commented:
"The Highland Council is delighted that it is able to support these young people as they head off on what is sure to be the experience of a lifetime. Enabling our young people to develop their skills and to gain new experiences will be vital in ensuring the future social and economic development of the North Highlands. This is a fantastic example of how the provision of lifeline air services to remote and rural areas can enable access to opportunities that would otherwise not be available to those living and working in the region.
"We wish these young people all the best as they set off on their grand adventure, and look forward to working with local partners like DYW North Highland to support opportunities like this in the future."