Sail Trainee Recruitment opportunities – Tall Ships Races 2023
FULLY SPONSORED TALL SHIPS PLACEMENTS NOW AVAILABLE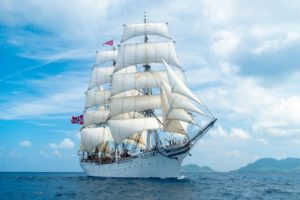 Sail Training Shetland are currently recruiting trainees for the Tall Ships Races 2023!
Sail Training Shetland is inviting applications from young people aged 15-25 to take part in sponsored sail training voyages in The Tall Ships Races during July and August this year. They are collaborating with local grant funders and businesses to help support sail training experiences and opportunities for young people.
Sail training is an adventure you will remember for the rest of your life. We very much welcome applications from all abilities and backgrounds.
There are nine fully funded placements available, to young adults in Caithness and Sutherland thanks to sponsorship support from:
There is huge excitement building for the return of The Tall Ships Races 2023 when the international fleet of Tall Ships and Small Ships will return to Lerwick. The legendary Tall Ships Races offers international fun and friendship, action-packed racing and festival experiences.
There are two incredible adventures on offer, the first taking you on a leisurely Cruise in Company from Fredrikstad, Norway, visiting guest harbours along the Norwegian and Scottish coast before arriving at Lerwick. The second is a livelier ocean race between Lerwick and Arendal in Norway. All dates are approximate and inclusive of travel between embarkation and disembarkation ports.
Requirements:
Applicants must be 15 years of age on 1 July 2023, the start of The Tall Ships Races 2023 event series, and currently hold a passport for travel which is valid to at least 10 November 2023. If you do not have a valid passport, we are unable to accept your application. The upper age limit is 25 years at the time of travel.
Applicants must be resident in Caithness or Sutherland to be eligible for a sponsored placement through DWY North Highland, Pentland Floating Offshore Windfarm or Scrabster Harbour Trust.
You must read our guidance notes and supporting information before completing your application. We are happy to accept applications that have been scribed on your behalf. They can be read HERE.
If you would like to apply, please fill out the 2023 Sail Training Application form below and send in an email to skills@caithnesschamber.com
Application Form (Online Download) or Complete Online
This form MUST be completed by a parent/guardian if the participant is aged under 18. A copy of this form will be retained confidentially by the leader / supervisors of the activity.
Please note: This form may take around 20-30 minutes to complete.
If you have any questions about your application or need any help with completing the form please contact Jane by emailing jane@dywnh.scot or call 01847 890076
APPLICATION DEADLINE: Friday 31st March.