SSE Distribution Trainee Engineers (North 2023 Intake)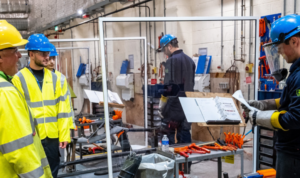 Full Time, Permanent, 3 years
Locations: Inverness, Kirkwall, Wick
Salary: £21,000 + a range of other benefits to support your family, finances, and wellbeing.
Qualifications: HNC in Electrical Engineering, APM in Project Management qualification
SSE is now looking to recruit Distribution Trainee Engineers.
What is the Role?
Our Trainee Engineer programme lasts for three years and combines academic study with work-based experience. Working within our Distribution business, you'll have the opportunity to study towards a HNC in Electrical Engineering as well as gaining an APM in Project Management qualification.
The Distribution Trainee Engineer programme is designed to build the foundation blocks of your electrical engineering career within the Distribution business, providing you with great opportunities to be exposed to engineering excellence across our business whilst developing your academic, theoretical, and practical skills. This will provide you with an excellent opportunity to become the Power Engineer of the future. You can work towards becoming a Low Voltage Switcher and a High Voltage Switcher, making the Network safe to work on and maintaining Network integrity and resilience whilst ensuring safe and reliable supply of electricity to our customers. This combined with you newly developed project management skills will enable you to become more contribute towards the daily operation, repair and design of the Network whilst supporting the drive towards a Distribution NetZero.
You are provided additional support, training and guidance whilst on your learning journey to ensure you can make a fantastic start to your engineering career within SSEN. Here at SSEN we recognise the importance of continuous professional development and celebrating engineering excellence as an SSEN engineering trainee you will have access to our Engineering Professional Development Forum to assist you in further progressing your Engineering skills.
On completion of your programme you will be qualified and authorised to work as an Engineer within one the following disciplines Supply restoration, Maintenance, Engineering Project Manager, Project Design, Systems Planner or Control Room Engineer.
What do I need?
To be considered for this role, we would love you to be:
Highly organised and self-driven with the ability to manage your time well.
Flexible in your approach to work to maximise your chances of success, and you should be happy working alone or as part of a team.
Comfortable to spend some time living away from home whilst attending college or on placements across SSE
For entrance onto the educational aspect of our programme it's important that you have or expect to achieve the below qualifications prior to starting the programme in September 2023:
• 3 Scottish Highers at grade BCC or above including Maths, OR 2 A levels at grade CC or above and including maths
• National 5 Physics or Engineering Science plus English at grade C or above, OR GCSE Physics and English at grade C or above, or equivalent
We are happy to accept applications from candidates with equivalent level engineering.
We are unable to accept a HNC in electrical engineering for our Distribution business area as this will be the qualification that you will be studying on the programme. Please consider applying for the Higher Apprenticeship Electrical Power Networks Engineering role or other programmes if you already hold this qualification.
Closing date for applications: May 29th 2023
Apply by visiting HERE.