Summer Placement Opportunity: Electronic Engineering – Denchi, Thurso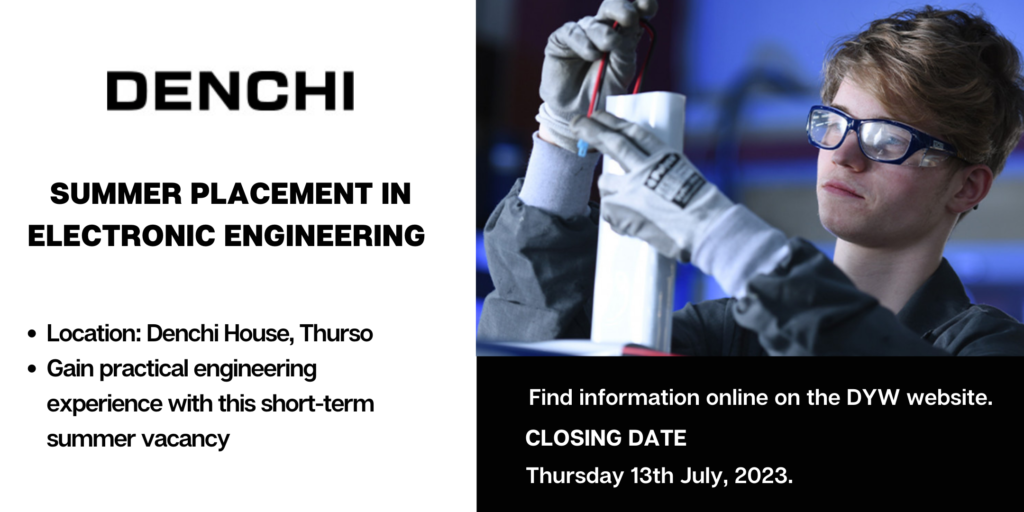 Are you looking for an exciting opportunity this summer?
Do you want to gain practical experience in a dynamic and innovative design and manufacture business?
If so, this might be the perfect opportunity for you.
Denchi are a high-end battery systems company based in Thurso, and we're seeking enthusiastic people to join our team.
You will be exposed to various stages of the product development process, from design to final testing and validation.
Your responsibilities will include:
Collaborating with our experienced team of engineers assisting with the latest product release
Prototyping test systems for new designs
Assisting with the testing and validation process
Assisting with the development of manufacturing processes
To be successful in this role, you should:
Have a passion for engineering and an understanding of the product development process
Have a good understanding of electrical and electronic principals
Possess strong analytical and problem-solving skills
Be able to work independently or as part of a team
This is a short-term summer vacancy which may particularly suit people living in the Caithness area that are looking to gain practical engineering experience.
This is a unique opportunity to work for a forward-thinking company on exciting projects that push the boundaries of high-end battery systems.
If you are interested in this exciting opportunity, please send your CV and a cover letter to careers@denchigroup.com.
We look forward to hearing from you.
Closing date for applications: 13th July, 2023.