Job Opportunity: Police Constable AFO – The Civil Nuclear Constabulary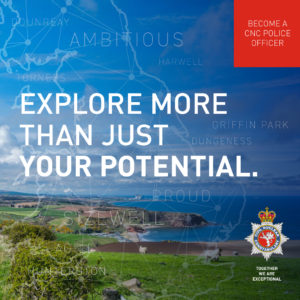 Police Constable AFO, Dounreay
Full Time, 40 hours per week
Salary: £28,551 per annum and generous benefits package
The CNC (Civil Nuclear Constabulary) is now recruiting in Caithness!
Responsibilities
Our role in protecting the nation's security is unique, which is why being a CNC Police Officer is about so much more than traditional policing. You'll become part of a highly trained, well-disciplined, and professional team working from our Operational Units as part of a team to provide 24/7 armed response; patrolling and protecting nuclear sites, facilities and materials, as well as patrolling in the local communities and working with local Home Office Police Forces. We play a key role in the Strategic Armed Policing Reserve and have been deployed across the country as part of Operation Temperer in response to terrorist attacks.
Upon joining the CNC you'll be enrolled onto our world-class 18-week comprehensive Authorised Firearms training programme; we give our officers everything they need to become some of the most highly trained firearms professionals in the country, so there's no need for you to have any prior policing experience when joining us.
After your 2-year probationary period, you'll be eligible to apply for a role in one of our specialist areas to enhance your policing skills further, such as Dog Handler, Special Branch, Firearms Instructor or Strategic Escort Group Officer.
As police officers the public expect us to display the highest standards, values and professional qualities at all times. The CNC values and Code of Ethics applies to all police officers and sets out the principles standards of behaviour we expect to see, and you are responsible for displaying and delivering to the highest standards.
For more information, please click here to view the CNC AFO Role Profile or find out more about the CNC on our Careers Website
Qualifications required:
You must be 18 years old
You must have a full manual driving license
Benefits of working for the CNC:
22 days (176 hours) per year annual leave, plus bank holidays
Generous pension scheme (20.7% employer contribution)
Free parking at all sites
Free gym at some sites
Enhanced family friendly and wellbeing policies
Cycle to Work scheme
Officers and staff also have the opportunity to join the national Blue Light Card scheme which offers discounts on a variety of products and services to those working in the emergency services, NHS, and Armed Forces
Equality, Diversity and Inclusion are central to the values of our organisation. At CNC we value and embrace the unique experiences, identities and abilities that each of us bring to our roles. We strive to empower everyone to bring their authentic self openly and safely to work.
Through the dedicated commitment of our affinity networks, ED&I team and wider HR departments, we are on a journey to embed our ED&I commitments, ensuring the CNC is an employer of choice; where everyone feels included.
Please review the video links below which will give you an overview of the vetting process that you will be required to go through if you are successful in your application to join the CNC:
If you have any questions, please feel free to get in touch with us at jobs@cnc.police.uk
If you wish to apply, please click HERE.