Trainee Opportunity: Health Physics Surveyor – Dounreay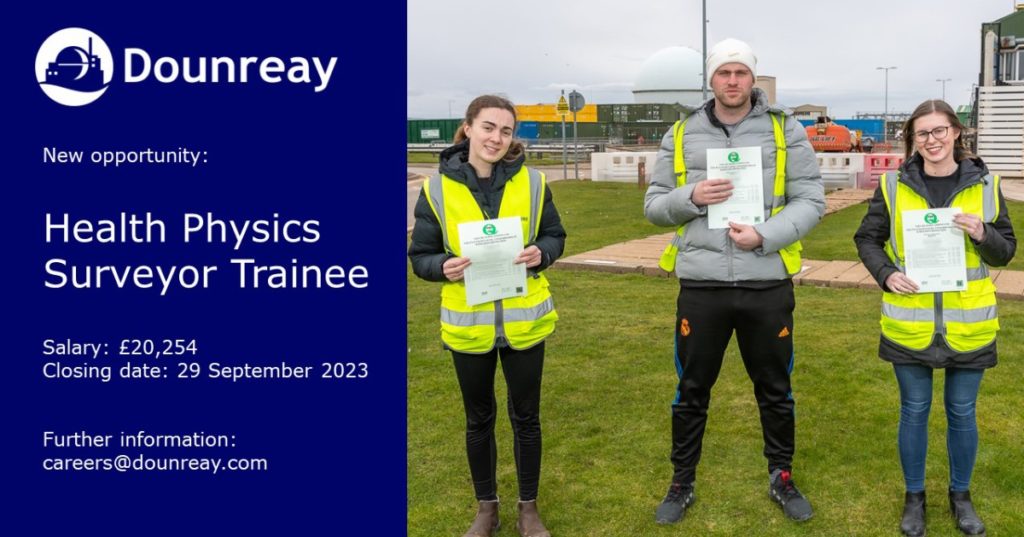 Full Time, Permanent
Location: Dounreay
Salary: £20,254
Job Description
Vacancies have arisen within our operations directorate for Health physics surveyor trainees to support the ongoing decommissioning programme. The training programme will last for 2 years and will include an NVQ in Radiological Protection. Throughout the training your progress will be monitored and assessed against Dounreay standards. You will compile an evidence folder, demonstrating your areas of learning with accredited certificates of completion for elements of your training.
After shortlisting those candidates invited to interview will require to undertake a short hand writing assessment.
Main responsibilities
Undertake radiation and contamination surveying both on the Dounreay Site and offsite in accordance with the defined routine monitoring programme
Undertake the changing of air sample and duct sample filter papers, and undertake counting of the filters to determine the activity present
Support site operations as they progress by monitoring the radiological conditions and reporting the results
Undertake surveying operations in areas with enhanced levels of radioactive contamination wearing appropriate PPE/RPE
Review and support the production of health physics documentation
Assist with the familiarisation and training of Health Physics staff
Be required to participate in emergency on-call arrangements
Perform the responsibilities of Local/Management Appointments relevant to post
Qualifications, aptitudes and experience
Minimum of 3 National 5's at Grade C or equivalent, including English, Mathematics and one Science subject
Open, flexible approach to work and prepared to undergo training
The ability to communicate effectively with staff/contractors at all levels
Ability to work on own initiative and as part of a team
Required to be designated as a classified worker and as such must be 18 years old or over on or before 1st April 2024 in accordance with the Ionising Radiation Regulations 2017
The successful candidates will be required to undergo security clearance checks.
To apply now, visit HERE.
For further information, contact: careers@dounreay.com
Interviews to be held: Week commencing 30 October 2023
If you require assistance at any point during the recruitment process then contact careers@dounreay.com at the appropriate time so that we can make any necessary reasonable adjustment.